This post is part of our Meet the Team series, where we are proud to introduce you to the amazing people of Unitec, who work tirelessly and diligently for our customers and partners.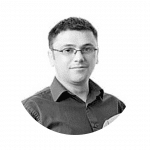 Aiden Ryan, Technical Director
Having worked in IT for the past 20+ years, primarily with Managed Service Providers (MSPs) at differing levels – from PC support to infrastructure installation and all the in-between of supporting the client infrastructure, servers, firewalls, phone systems, networking etc. – Aiden brings a wealth of experience to the Unitec team.
Now serving as Unitec's Technical Director, Aiden supports our customers with installations right from the planning stage, and provides recommendations to clients to ensure the best possible solution within each project's parameters.
Additionally, Aiden supports our technical team with what they need, including planning their ongoing training to ensure that skills are kept up to date in the fast-paced world of IT. For larger projects, Aiden also supports the members of our sales teams in a technical pre-sales role – looking at new products on the market and keeping a keen eye on what the industry is up to and what new advancements can be leveraged.
"I love to see how we can transform a company's IT system into something strong, resilient and future proof, and witnessing how this transformation benefits the company in ways they wouldn't have even thought about in terms of efficiencies. I'm also proud of how our guys, who support our clients remotely or on-site, will always try their best and how this is then reflected with our customers' happiness and satisfaction in the support they receive from us."