At the heart of great teams is great communication
Connect your teams with the experience they love, in the Office applications they use every day. Now, with Microsoft Teams you can simplify your infrastructure with one platform for calling, conferencing, video, and sharing.
Messaging, meetings, and screen sharing all in one app that works with Office.
Teams is the fastest growing business app in Microsoft history, with 500,000+ companies now using teams.
Meet with anyone, anywhere
Host online meetings—1:1, teams, live events up to 10,000 people—with consistent experiences across platforms. Schedule a Teams meeting with anyone who has a valid business or consumer email address. They just click the emailed link to join the meeting on a web browser instantly without downloading Teams or any plug-in.
Meet with confidence
Get a secure meetings experience with high-quality audio, video, and screen sharing.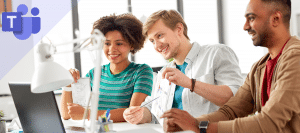 Stay productive while working remotely
Teams across the globe are moving to remote work. Microsoft aims to keep teams connected while they work apart by making Microsoft Teams available to as many people as possible. Teams allows you to chat, meet, call, learn, and collaborate all in one place.
Security and Control
Conversations are protected by strong authentication and encryption, and you manage employee accounts and features.
Work Better Together
Contact Unitec today to get started with Microsoft Teams